I thought I would give you a break from Christmas today. (This is a long post, so grab a coffee or your favourite beverage before you start reading it.)
There are a number of card kits in both the Annual Catalogue and the Holiday Catalogue. They are a great way to get yourself started with stamping, or a wonderful way to create numerous projects quickly.
The Watercolor Wishes Card Kit would have to be my pick in the Annual Catalogue as it includes a stamp set, an acrylic block and 2 Stampin' Spots which you will still have to use on new projects once you have made up the cards in the kit.
Just to get you started, here is a quick video that Stampin' Up! put together on this kit.
This kit comes in a cute box which can be reused for another gift.
You get:
Cardstock bases (which have been watercoloured) to make 20 cards
Envelopes for the 20 cards
Photopolymer Stamp set – Watercolor Wishes which has 10 sentiments, and 2 heart images (a single and 3 small in a line)
Acrylic Block for the stamps
Washi Tape
Sequins
Wooden Embellishments – hearts, butterflies (both solid and outline)
Night of Navy Stampin' Spot
Watermelon Stampin' Spot
Diecut pieces
Banner stickers
Dimensionals
Instructions on how to put the cards together
The only thing you need to provide is adhesive. I used my favourite Multipurpose Liquid Glue.
I have made up the cards and this is my take on them. You could use any of the greetings on any card.
There are 4 square cards (4″ x 4″),
… and 6 Note Cards,
… and 4 standard size cards – landscape style,
… and 6 standard size cards – portrait style.
After making all 20 of these cards, I still have lots of Washi Tape, Sequins and Wooden Embellishments left to use on more cards with my own cardstock.
This is the perfect gift for any friend who is interested in papercrafting.
If you are new to stamping and are a little hesitant about taking the first step, this is the way to go. The instructions can also be adapted for new projects, so as you are learning and making the kit, you will get ideas for further projects.
If you live in the Toowoomba region and would like some help getting started with this kit, I am happy to arrange a session with you. Contact me today.
All the supplies are Stampin' Up! and can be purchased in my online shop.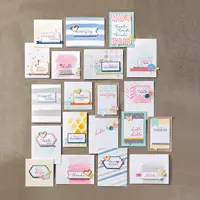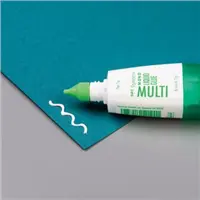 Stampin' Up! – what's happening now:
Click here or on the side bar to get your digital version of the 2015-2016 Annual Catalogue or contact me to order your own copy today.
Check out the Weekly Deals and Clearance Rack while you are visiting my shop
Contact me if you would like a copy of the Holiday Catalogue. or click on Catalogues on the sidebar and download your PDF version today.